Smokehouse, Canonbury, London
There's a perfectly unassuming place tucked away in Canonbury in North London which is warm and cosy and candlelit and serves meat to die for.
It's name: Smokehouse
One Friday a few weeks ago we met after work for a goodbye meal for our house mate who moved out and in with her boyfriend. The menu is simple: good ingredients, perfect flavours and meat....lots of meat.
The atmosphere is perfect for an after-work get together. It's busy and buzzy but still warm and intimate. When you walk through the door and the warm candlelight hits you it's like coming home to a comforting hug.
We'd already looked at the menu in advance because...well...that's what we do. The success of the starters was this chopped brisket roll, which was this breaded beauty, filled with soft beef brisket.
My beef shin tacos were a bit disappointing. Delicious, yes...but they lacked a little summin' summin'. Go for the brisket.
For mains the duck dominated the table, which we paired with a cherry beer with excellent results. Another winner was this sticky pork belly, served with bone marrow!
As if that wasn't enough, we nibbled on sides of pulled pork, Korean style, and caramel roast potatoes. So good, but oh, so bad!
You'd think we'd stop there but then we saw the dessert menu and decided that we were in for a penny, so might as well pile on the pounds! The winner for me was the white chocolate peanut cup, which came sandwich between two milk chocolate disks and topped with chocolate ice cream. The double D tart was also a beauty; but stay away from the sticky toffee pudding (a bit dry).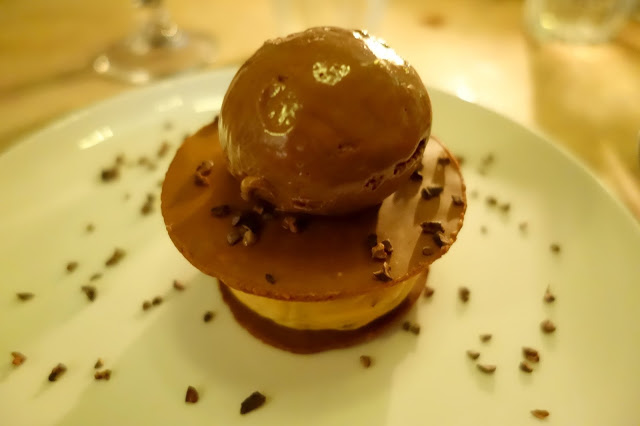 Don't tell your friends about it, and make sure you get the brisket roll and the duck; it will be our little secret.